Music
Mar 13 2013 · Firestarters
---
Guitarist's Vibe: Interview with Peter Thiel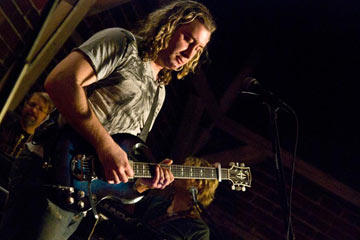 Q: What new season have you been experiencing musically?
A: "Musically, we're kind of in a transition right now. We've been working on a lot of writing. One thing that\'s always been important to me is that people stay open to correction and help with their music. The best songwriters in the world collaborate with others. Creativity in lyrical content includes how to make a song say what you want it to say with as few ideas or themes as possible.
"As far as the worship aspect of it goes, we experienced an explosion and emphasis on worship in the church in the 90s. We love the Word as musicians and non-musicians, but we don't feel the model is 25 minutes of worship and then an hour long sermon.
"What we've seen as a shift in the last 10 years is a worship culture emerging. In the past, the role of the worship leader was to usher in the presence of God and to unite the people in a corporate song. And that does still happen. However, more and more the Lord is using the worship leader as a channel, and the messenger becomes the message. The word comes through the worship. We're getting the rhema word in the worship. It's not just about the songs. That's how we can have 2-3 hour worship services."
Q: Have you ever felt stuck as a songwriter regarding inspiration? If so, then how did you move beyond that?
A: "When it comes to inspiration, I get inspired by so many things: the Lord, life, and relationships. As long as I'm actively pursuing relationships, I can always find inspiration. Writing a song shouldn't be an external revelation; it should be coming out of the overflow of your own heart. If it's a lifestyle, then it shouldn't be a striving.
"When you do it long enough, you live in a place of breakthrough. Where it used to seem like such a burden and so difficult, now there's no shortage of inspiration. Much more of it for me is finding the time. I'm not impatient about releasing stuff. So if I get tapped out working on one song, then I'll just go on to the next one. Currently, I'm probably working on 10-15 songs at once.
"The most important thing is staying active in our gifts and staying active in our relationships with each other. Then, we're constantly inspiring one another."
Check out Firestarter's latest record:
---