Creamery Renovation
Mar 13 2013 · The Ottertail Creamery
---
Builder's Corner: Interview with Wendell Danielson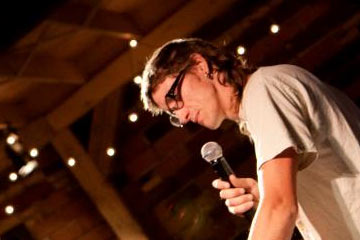 Q: What was it like starting on the creamery?
A: "When we bought the property, we took out 4,000-5,000 tires. It filled two semi-trailers full of tires that we hauled away. The roof was completely gone, and the windows were broken or missing. There was a significant amount of cleanup to do before construction could even begin on the structure."
Q: How did you go about the renovation project?
A: "We would have prayer meetings, worship, and prophecy at the Creamery with no roof on it before we even got started.
"Most of the construction work was done from October ?08 to February ?09. Six to eight weeks of the project, the temperature was around zero degrees in the dead of winter. We ended up with 80,000 pounds of demolition debris from the second floor alone or 14 dump truck loads. It was a concentrated team effort to put up the new roof. Getting the materials in place for the roof and the prayer tower was a logistical challenge. There was a grace that we had to accomplish the work at the time.
"For demolition, we started knocking down walls, converting six rooms into one large meeting sanctuary. In the coolers, the walls were made of cork covered with plaster. The original concrete was cast into place, reinforced with rebar, and had to be jackhammered out."
Q: What is the prayer tower addition?
A: "The prayer tower is an octagon with windows facing each direction. It provides balance and proportion to the building, and stands about 56 feet tall and 24 feet across.
"Part of our future vision for the Creamery is to include apartments and a parking lot."

---