Fashion show to feature work of area designers
Mar 19 2013 · 0 comments · Articles, Fashion

PERHAM FOCUS | THURSDAY, JUNE 14, 2012 | By Marie Nitke
Article reproduced with permission

A free fashion show is coming to Ottertail.

On Saturday, June 16 at 6 p.m., the Red Brick Boutique will be showcasing the work of local designers in a runway show at the courtyard of the Creamery.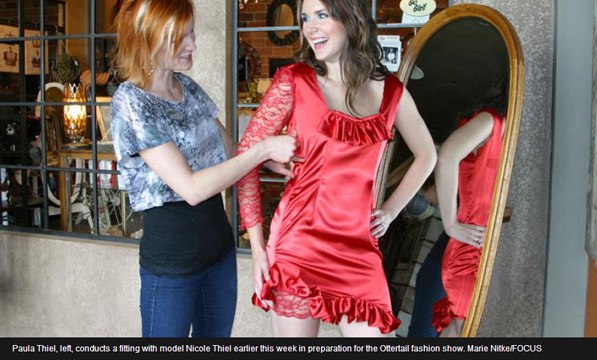 Battle Lake native Alex Floersch will be showing a few pieces that she's been working on in school, and two young costume designers from Matti's Millinery in Fergus Falls will exhibit a collection of period pieces – dresses and other styles from the renaissance up through the 1950s.

Paula Thiel of the Red Brick Boutique said this is the first year of the fashion show, but she hopes it'll catch on. It could become a charity event in the future.

"It's just a fun downtown event for Ottertail," she said. "It's something I enjoy doing."

There will be gift bags for all 100 guests at the show. The public is invited to this first-come, first-served event.

Local violinist Coty Sloan will perform, and an emcee will host. Most of the girls modeling the clothes are from the Ottertail area.