Red Brick Boutique offers unique shopping for area
Mar 19 2013 · 0 comments · Articles, Fashion

PERHAM FOCUS | WEDNESDAY, MAY 25, 2011
Article reproduced with permission

Red Brick Boutique, located in the Ottertail Creamery Building, will be offering expanded hours this summer.

Run by Paula Thiel, the shop was open weekends last summer. Now, after an expansion and an updated inventory, Thiel plans on being open more often this summer.

Thiel, originally from Wadena, said that she had always wanted to run a shop.

Now, after some time to get things up and running, she's excited about how things are taking shape.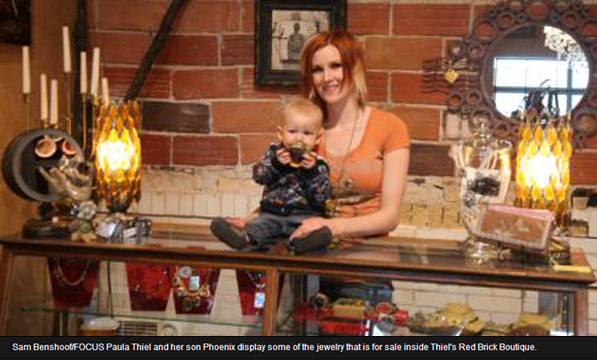 "Music and art are my passion, and I felt like it was time for something fresh like that in Ottertail," she said.

Thiel's goal is to make the shop unique, whether that's selling items made by local artists or that are made of recycled or repurposed materials.

Tracking down the 10 artists whose works are for sale in the store took some work, she said.

"We were searching for them at craft shows or trade shows or things like that," Thiel said. "They were hidden, kind of hard to find."

Once she was able to find the artists, though, they were more than happy to have their items in the store.

"They were very excited to have some more exposure around the area," she said. "There are a lot of artists around Ottertail that people don't know about."

Thiel also hopes that the store can be used to give some publicity to Firestarters Ministry of Ottertail. The store carries Firestarters CDs.

"Everything in the store is a reflection of myself," Thiel said. "That's what a shop should be. Everything that I sell are things that are important to me."

Red Brick Boutique also offers other Christian-themed items, T-shirts, unique chocolate bars, otter and Ottertail-themed gifts, natural body care items and more.

"Everyone who has come in to the store so far has been very excited to have something new and unique here," she said.

Thiel plans a grand opening over Memorial Day weekend. Visitors can try coffee and chocolate and can register for prizes. The store's grand opening will also coincide with the grand opening for the Creamery's coffee shop.

Thiel enjoys getting to know people who come into her store, and is looking forward to the summer season. With the opening of the coffee shop, Thiel hopes the Creamery Building will be the place to be in Ottertail.