Tours of Ottertail Creamery
Aug 16 2013 · 0 comments · Articles

FERGUS FALL DAILY JOURNAL | TUESDAY, AUGUST 6, 2013 | By Rian Bosse
Article reproduced with permission

Until only a few years ago, the large creamery building in downtown Ottertail was nothing more than an old eyesore at the center of town. Now, a successful coffee shop, boutique and ministry call it home, and many residents and visitors to the small town are left to wonder what?s been going on.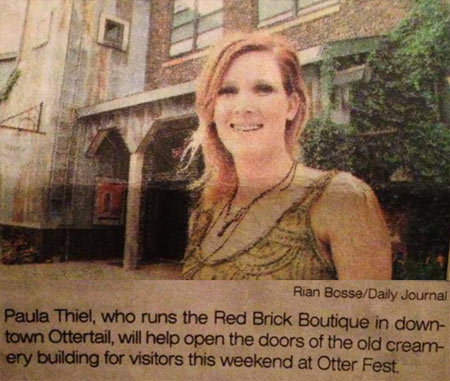 ?People stop in everyday and they want to see then whole building and everything that has been done,? said Paula Thiel, owner of the Red Brick Boutique.

To satisfy the curiosity, the building will be open for the public to tour during Otter Fest this upcoming weekend. Visitors will see the renovated main floor, now filled with shops, and the ministry center on the second floor, which includes a concert hall.

Thiel said that, in the last few years, most people have been interested in what the group has created upstairs. The group hosts events, weddings and meetings in the building, but many regular shoppers have still been left unaware of what the rest of the building has to offer.

The building, which was built in 1921, was unused and run down until it was purchased by Pete Thiel for use in his Firestarters Ministries. The artistic group of believers brought a creative touch to the building and reopened the old creamery in 2009.

?It?s almost like an expression of worship for us,? Thiel said of the unique and updated design of the building. ?People are excited about the creamery again, so we?re excited about that.?

Tours will be given from 1 to 4 p.m. on Saturday. The regular store hours for the boutique and cafe are Monday through Saturday from 9 a.m. to 4 p.m. This will be one of the few times that the public is able to see the renovations, but Thiel said the group hopes it continues to be a highlight of the downtown for residents.

?It?s something that could have just been bulldozed down, but that?s not what we wanted to do,? Thiel said. ?We want people to know what the creamery is and we want to give the community a good feel for what goes on here.?