Gathering hosted in Ottertail July 31 – Aug 9
Aug 16 2013 · 0 comments · Articles

PERHAM FOCUS | WEDNESDAY, JULY 29, 2009
Article reproduced with permission

Creativity will flow at The Gathering 2009, the annual tent meeting for Firestarters Ministries. With "This is Your Renaissance" as this year's theme, it's sure to be a lifechanging event once again.

Each night, for ten nights, the yellow and white tent set up in Ottertail will fill up with hundreds of people. The tent is located in the field by All Seasons, north of Highway 108. The Gathering will feature worship music each night starting at 7 p.m., followed by a message. During the day, the ministry has planned morning worship sessions from 10 a.m. to 12 p.m. at the old Ottertail Creamery building.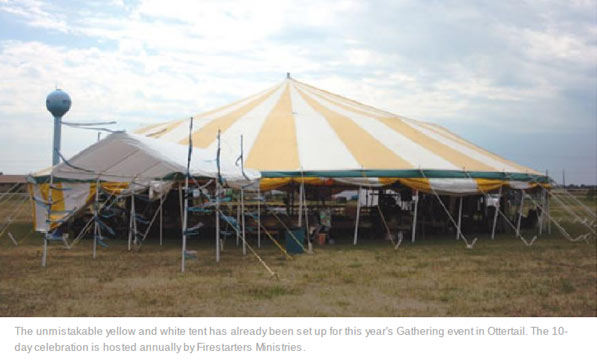 For most of the afternoons, different "renaissance workshops" are planned–each focusing on encouraging people in a different creative outlet. Examples of workshops include a writer's workshop, dance workshop, songwriter's workshop, painter's workshop, and a musician's workshop.

The workshops run from 1:30 to 3:30 p.m., and, as with the night meetings, are free of charge. The public is invited to attend the workshops and learn more about the creative arts.

In addition to the nightly meetings and planned workshops, other highlights of The Gathering include a late night CD release party, from 11 p.m. – 11:45 p.m. on Sunday, August 2. Following the night session, the Firestarters band will officially release their new "Seasons" album.

The CD release party will feature special live performances of the band's new songs, games, prizes, and lots of fun.

Coinciding with Ottertail city's annual Otter Fest celebration on Saturday, August 8, Firestarters will host an open house in the recently restored Ottertail Creamery building. The public is invited to tour the facility from 12 p.m. – 5 p.m., and check out the building, complete with a coffee shop. Brand new Ottertail Creamery t-shirts, mugs, and postcards will be available for purchase.