More than 1,000 visit renovated Ottertail Creamery
Mar 14 2013 · 0 comments · Articles

PERHAM FOCUS | FRIDAY, AUGUST 14, 2009
Article reproduced with permission

It's been 88 years since the old Ottertail Creamery experienced so much public attention.

An estimated 1,000 people toured the brick icon August 8, when Firestarters Ministries unveiled the renovated building to the public.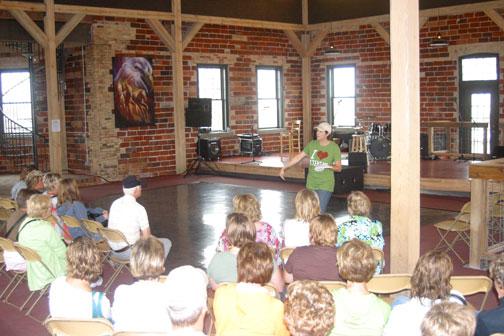 While the basic structure is still intact as a testimony to Ottertail's agricultural past, the builders and artists from the unique ministry have transformed it into a distinctive facility with retail space on the main floor, and an original cement staircase leading to the upper level worship area.

A two-story spiral staircase on the second floor winds up to an observation tower which offers a stunning view of seven lakes in the Ottertail area.

The remodeling preserved many of the rustic brick-and-mortar features of the original creamery; yet enhancements stay true to the 1920's.

As refrigeration technology improved, nearly all small town creameries became obsolete in a matter of a dozen years, so the creamery's later uses included a butcher shop and a used tire business.

While on the tour, visitors were shown where several cork refrigeration rooms were formerly located on the second floor. A second floor door, once equipped with a pulley system, was used to haul in large blocks of ice used for cooling.

Although the second floor is complete, construction continues on other floors of the building. A living quarters on the first floor of the creamery building will eventually be converted into a rental apartment.

In only about ten months, members of the Ottertail-based Firestarters Ministries removed three semi-trucks of old tires and 18 truckloads of debris. A new roof was constructed; along with an attached tower that houses the restroom facilities for the building.

On the main floor, visitors stopped to check out a photo studio, retail store and a ministry-based coffee shop. Postcards, mugs, and t-shirts featuring the Ottertail Creamery building were created and available for sale during the August 8 open house.